Digital Transformation Academy
Digital Transformation Academy
A summer program for high school juniors & seniors
Recently Featured in Louisville Business First!
Program Overview
Formerly known as Project BUILD, the Digital Transformation Academy enhances students' understanding of the various ways data and technology are transforming the modern business world.  Designed for high school juniors and seniors, students learn multiple technology applications, including Google analytics and software applications.  Participants in the program earn certification in Google Analytics. 
Program Information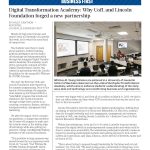 The new Digital Transformation Academy was recently featured in Louisville Business First.  The program was made possible by the University of Louisville Digital Transformation Center, UofL College of Business, Republic Bank & Trust Company, The Mary Yarbrough Fund at Community Foundation of Louisville, Greater Louisville, Inc., Baptist Health, YUM! Brands, and the Oliver Group.
To read the full article, click here.